Product Description
Media Literacy is an area of growing importance and interest for educators. Lesson 4 and 5 in this curriculum guide for The Post focus on "Fake News" and the importance of a free press. Additionally, Lesson 2 in our guide is a featured resource on Share My Lesson: https://sharemylesson.com/teaching-resource/teaching-supreme-court-and-freedom-press-post-302377.
The Post Curriculum Guide
Lesson 1: The Pentagon Papers: The Facts of the Case (United States History)
Lesson 2: The Supreme Court and Freedom of the Press (United States History, Government)
Lesson 3: Daniel Ellsberg and the Espionage Act (United States History, Government)
Lesson 4: Journalism Ethics and "Fake News" (Journalism)
Lesson 5: Why Is a Free Press So Important? (Social Studies, English, Journalism)
Lesson 6: First Amendment Rights and the Student Press (Journalism)
Lesson 7: Character Conversations: The Interview (Drama/Theater)
Lesson 8: Active Viewing of The Post (English Language Arts, Film Literacy) – The Glossary of Film Terms linked below is useful for this lesson. 
To download your free curriculum resources, simply:
Sign up for a FREE account

  2. Click "Add to Cart" (top of page) 3. Click cart icon and select "checkout"  4. Then you can download your PDF(s)
Journeys in Film supports the Sustainable Development Goals.
This curriculum guide connects to the following United Nations SDGs. Learn more about teaching with SDGs: https://en.unesco.org/themes/education/sdgs/material.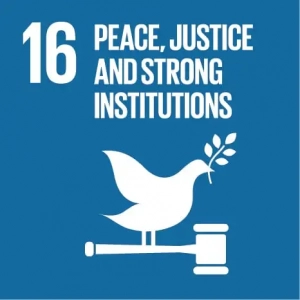 Finally, The Post is one of 7 films with corresponding free educational resources that are Oscar Nominees and/or Winners. Check out our news piece on Oscar-winner Summer of Soul, which also highlights The Post and additional Oscar-recognized films that we've created free educational materials for over they years: https://journeysinfilm.org/news/summer-of-soul-now-an-oscar-winner/.